V-Lap Pty Ltd are pleased to announce the recent appointment of Allertex of America Ltd. as their official and exclusive agents for USA and Canada.
We are confident this appointment will provide our customers with a strong service and sales support.
Allertex of America Ltd.
10620 - A Bailey Road
Cornelius, NC 28031
T: 704-895-5766
F: 704-895-5768
www.Allertex.com
Products
V-Lap have an extensive machinery product range and we are able to supply everything required in a turnkey vertical lapping operation from bales of fiber to packed goods.
A turnkey V-Lap line will include all the following - opening and blending – carding – vertical lapping – oven and end of line machinery. V-Lap has manufacturing in asia and australia to achieve a complimentry balance of high quality and cost effectiveness to provide functionality on an economic basis.

Our product range encompasses: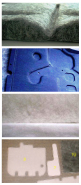 bale openers
coarse and fine openers
dust extraction systems
blending bins
fiber weigh control units
card chute and hopper feeds
cards from 0.5M wide to 3.0M wide
vertical lapping machines
thermo bonding ovens both gas and electric
take off units with either shear blade or rotating blade slitters and cross cuts
electrical control panels with single operator interface with one touch sequential start and stop
product reclaim units